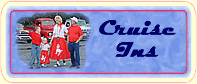 The Apple City Street Rodders club was formed in late 1989. We invite you to be a member or to come out and enjoy our Car Shows and Cruise Ins. Enjoy browsing our site and check back often to view photos from past events and read news of our upcoming events!
THANK YOU FOR JOINING US FOR OUR LAST CRUISE IN OF THE SEASON HELD ON OCTOBER 26 FROM 4:00 PM - 10:00 PM AT SCOTTY'S HOMETOWN GRILL
HWY 16 SOUTH TAYLORSVILLE, NC.

WE LOOK FORWARD TO SEEING YOU AT OUR FIRST SPRING CRUISE IN OF 2020!

View Our 2019 Cruise In Schedule




Cruise Ins are held during warm weather months from 4:00 pm - 9:00 pm
Location:
Scotty's Hometown Grill
Hwy 16 South - Taylorsville, NC

For more information contact:
Roy Bentley at 828-632-1695 or 828-244-1842
Jerry Ray Fox at 828-495-8700.
Email us for more information.
Admission is FREE!

VIEW PHOTOS
2018 Cruise Ins
Past Cruise Ins
If you have interest in learning more about our club, we welcome you to our next meeting of the
Apple City Street Rodders.
Meeting Date:
Check Back for Information on Our Next Meeting.
Meeting Time:


Meeting Location:

Become a Member
Click for a
Membership Application
If you have a love of classic cars and community, we invite you to become a member of our club. Membership dues are $20.00 per year per family. All members receive a monthly newsletter with club activities, announcements, and other information. Once your application has been received, you will be contacted via e-mail or phone for confirmation & payment information. Apple City Street Rodders is a non-profit organization and member dues are used to cover the price of the newsletters and postage.

For more information contact
our club officers or club members.
President
Roy Bentley - Email
Vice President
Jerry Ray Fox
Secretary
Martha Bentley - Email
Treasurer
Paulette Goins
We would love to hear your suggestions and comments. Perhaps you have attended one of our Cruise Ins or Car Shows and saw one of your favorite cars that took you back to those "Happy Days".